What kind of Hostess do you have?
First of all, is not the general public thinking of motor shows, auto salon, game show etc?
These are some of the largest exhibitions in Japan that the hostess can represent.
the female who have an profession as a Hostess,
"I want to go out to the motor show"
"I want to stand on the side of a car"
"I would like to stand on the big stage of the game show"
"I want to try  to dress in costume as a manga character"
"I want to work as a  pit girl at an auto show."
There are also a lot of female who yearned to be a event hostess.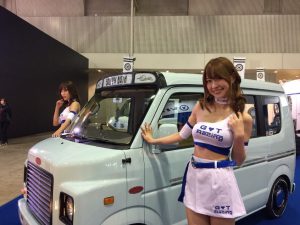 However
The work of the event hostess is not limited to such car relationships and games related work and etc..!
In Tokyo case , There are small campaigning jobs in 109 Department Store in Shibuya  , such as events held in front of Fuji TV,
In Osaka, There are new cosmetic manufacturer's new product sampling, an opening event of a pachinko parlor grand openings,the Tokyo Marathon and the Osaka Marathon are held at the Big Man Square in Umeda、Also at the exhibition booth of each companies exhibit, hospitality, guidance etc.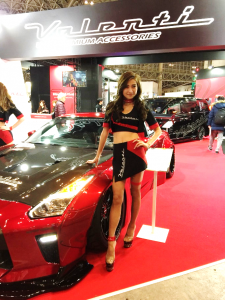 here are many jobs for an hostess small to big.
Costumes also worn on a case by case basics.
For example, costumes are often made according to the image and color of the manufacturers request.
There are various situations, such as rental costumes, wearing T-shirts containing manufacturer's name, product name and logo, and easy-to-move clothes like wearing matching pants and sneakers.
Events such as car events and pachinko parlors are often more gorgeous costumes than regular event hostess, and wearing various costumes is also a nice feature of the event companion's work.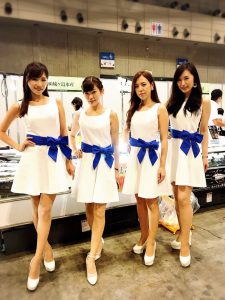 Looks are very important?
After all, Japan is very rich in the service spirit. Since the work is predominantly standing in front of people and looking gorgeous and elegant.This is why I think standing behavior is very educational and  important in the service industry at each office.
Is there a limit on age?
There is no age limit for the model.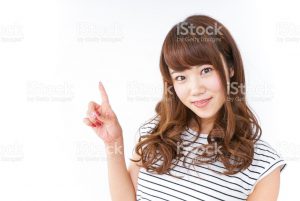 Baby models and senior models are also widely available. In modern people there are many beautiful girls who are 30 years of age or older, keeping the beauty that can not be defeated in their twenties.
Therefore, now thirty generations can be active in many ways.
But it is limited to those who maintain body shape and beauty.
How much income do you have for hostess?
Japan's salary is different by 20% between Tokyo and the district,
In Tokyo, the income of 1 day is around 12000 yen ~ 18000 yen around the market price.
This depends on the career and visual of the model.
Moreover, if the repeat rate is high and it is a popular companion, the guarantee of 15000 yen or more is also not small.
If it is outside Tokyo, the market price will be about 10,000 yen per day to 15000 yen per day.
It also depends on career and visuals.
In a nutshell, the hostess is a business that does not last unless it is popular.
There are many repeats, and if popularity is high, it means that compensation also increases.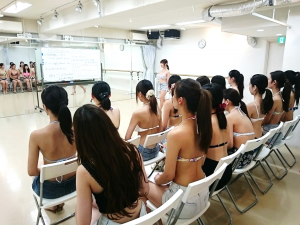 Just because your beautiful and your style is good that's not enough you still need to have good talent and charisma,positive atitude,etc.Things like this can and will increase you income as a hostess.
After all its all about great customer service.
A total balance such as those who have professional consciousness, those who have grooming and manners, those who have an order of service in the service industry and very cooperative is very important too.
Recently, I also hear from the hostess that other agencies doesnt offer any kind of  training.
When working with an agency I feel training is very important. I think that the person or hostess can build self confidence and therefore do very well for them.
Although the hostess seems to glamorous at first glance,in contrast to the look, it is a work that should not forget about effort and attentiveness to the detail
If you do it as a light job or a part-time job, be careful because you can get scolded from the agency severely if youre not knowledgeable.